Today, we have a super fun announcement to make – are you ready for it? 
That's right!  Myself and Jill from
Create.Craft.Love
are hosting a quilt along – and we would love to have you join us! 
We will be announcing your supply list next week, and we will wait until we return from SNAP to start the first week of the process and start week 1 on May 3.  That will give you a lot of time to pick a set of patterns, order fabric if you need to, and make sure you have everything you need to create your own gorgeous quilt.
We know that a lot of people are intimidated by creating a quilt – and for that purpose, we have chosen a simpler pattern that offers a lot of flexibility and choice.  Please don't be scared!  We will all be going through this together, and we are there to help each other.  In fact, we will be inviting all of the quilt along participants to a special facebook group where we can all interact, upload photos of our process, and help each other out.  Are you a quilting pro?  We would love to have you too!  Then, during the last week, we will have a big reveal party and invite everyone to link up and show their creations off!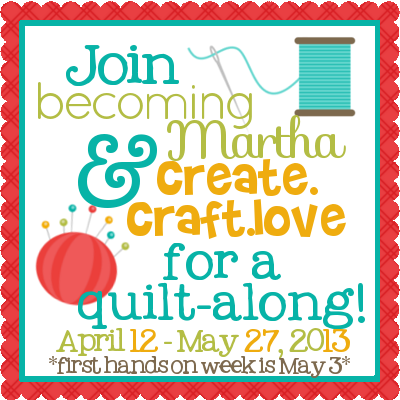 Sound fun?  Sign up by leaving a comment with your email – then we will send you an email with a link to our super cool facebook group so you can join!  And grab a button while you are here to share the fun with all of your friends – make sure you invite them all to join us.  We can't wait to start!